We are extremely proud of our Cornish origins..
Our origins can be traced back to 1952, with the Rowe family farm growing potatoes, winter green veg and dairy. In 2001 the decision was made to focus primarily on potato production specialising in early quality crops. The Rowe family developed and perfected early and salad production in the unique environment in West Cornwall, becoming one of Cornwall's leading potato growers.
 In 2010 the Rowe family expanded into daffodil and daffodil bulb production joining together with Rob Stacey and Nocton Flowers.
Produce Investments acquired the business in 2012, as part of the wider Produce Investments group we have access to resources and expertise that continue to strengthen the business.
In 2015, the business acquired Kevin Andrew Farming, bringing a wealth of new daffodil varieties into our portfolio.
As the daffodil and bulb business continues to grow the decision was made to concentrate solely on this side of the business, in 2018 Rowe Farming harvested their last potatoes.
Growing first class daffodils and daffodil bulbs in the heart of Cornwall.
The Cornish climate is ideal for growing daffodils, with its rich and fertile soil, we grow the highest quality daffodils in the UK; underpinning our success for producing wonderful flowers is the company's superb daffodil bulb operation.
Working with local family farms wherever possible, we farm around 4000 acres across the beautiful county of Cornwall.
We adapt growing techniques and have made substantial investments in machinery, storage facilities, and packaging equipment to ensure premium quality, whilst minimising the impact we have on the environment on which we rely.
We continually seek improvement and ways to innovate, creating a sustainable business for the future whilst minimising the impact we have on the environment on which we rely. We have invested heavily in new technology, machinery, storage and packing facilities. In recent years our team designed and engineered a bespoke bulb harvester for Cornwall's undulating terrain which has revolutionised the way in which we harvest our bulbs.
We take a collaborative approach, working with our UK and export customers to ensure that they have the right product for their needs at the highest quality for their customers. 
We operate across two main sites in the beautiful county of Cornwall.
Our sites are based at Pendarves Farm (Camborne) and Goonrinsey Farm (Ashton).
Find out more about where we operate from.
Operating to the highest standards.
We are accredited and audited to the following standards, ensuring our customers are supplied with sustainable and ethical products.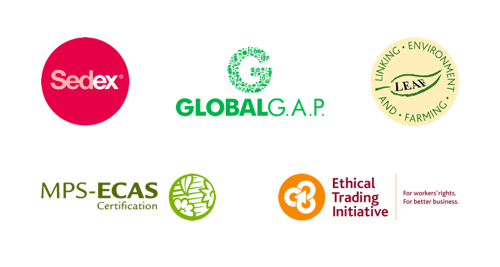 Our responsibilities:
We are proud to act as Reserve Guardians for the Wildlife Trust's Pendarves Woods Reserve. 
Learn more about our approach to CSR and Modern Slavery here: